Above Ground Pool Landscaping with Rocks
Landscaping with rock is always a good idea around an above ground pool. You can always find stones in colors that compliment the color of the pool deck.
The river rock mulch used here is so pretty that you would want to plant sparsely to avoid covering it up.
I'm not sure what the hedgehog-sized shrub in this picture is but any of the compact globe-shaped Arborvitae would suffice. Thuja occidentalis 'Woodwardii' will grow into a 3 foot always green mound in zones 2-5.
But the colorful foliage of Thuja occidentalis 'Sunkist' would provide a seasonal color show. Its lemony spring leaves turn orange in winter. It is less hardy than 'Woodwardii' being recommended for zones 3-7.
Arborvitae take center stage in this above ground pool landscaping picture. The taller plants look like Thuja occidentalis 'Pyramidalis' which can reach a height of 20 feet or more with a 4 foot spread.
These could be used, all by themselves, as a privacy screen as they grow thickly enough to prevent prying eyes from peering through. They are evergreen and can be planted on acid or alkaline soils. They rarely need trimming.
If you like this look but want something smaller, consider 'Degroots Spire' Dwarf Arborvitae . With a mature height of 12 feet, it is much shorter than 'Pyramidalis' but that's not the only difference.
This cultivar turns bronze in the winter. Imagine how striking that would look against the brown decking here. 'Degroot's Spire' is also more cold and drought tolerant than 'Pyramidalis'. It needs only occasional pruning and is unattractive to deer.
The more compact shrub near the stairs is a Pygmy Globe Arborvaitae Thuja occidentalis 'Pygmy Globe' is a low maintenance, dwarf evergreen which grows slowly to a mature height of about 4 feet.
It will maintain the shape you see without you having to prune it.
Above Ground Pool Deck Landscaping
The planters in this above ground pool landscaping picture look built in.
If you have not got built in planter boxes, this Planter Bench With Two Planter Boxes Kit
could be the next best thing.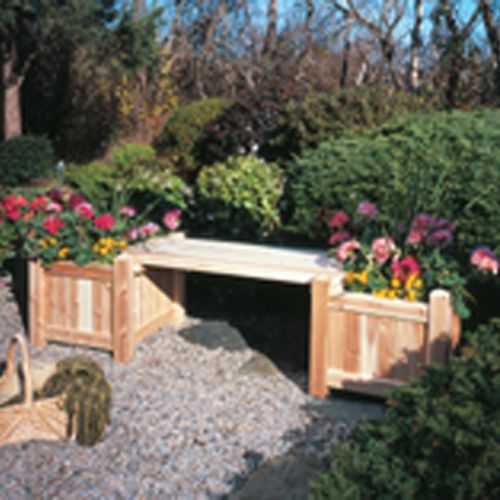 Just stain or paint it to match your deck to give it a custom made look.
The arbor swing
is a romantic seating choice.
More Landscaping Design Ideas:
Pool Landscape Lighting Pictures and Ideas
Inground Swimming Pool Landscaping Photos and Tips

Good Plants to Use When Landscaping Around Pools

Unique Hot Tub Deck Ideas

Go from Above Ground Pool Landscaping to Plant Guides Home Page