Wooden Garden Arbor Swings
See the best wooden garden arbor swings here. You can purchase a prepainted arbor with swing, or just the swing, in your choice of colors. Or go the natural route with an unfinished cedar, pine or cypress arbor and swing.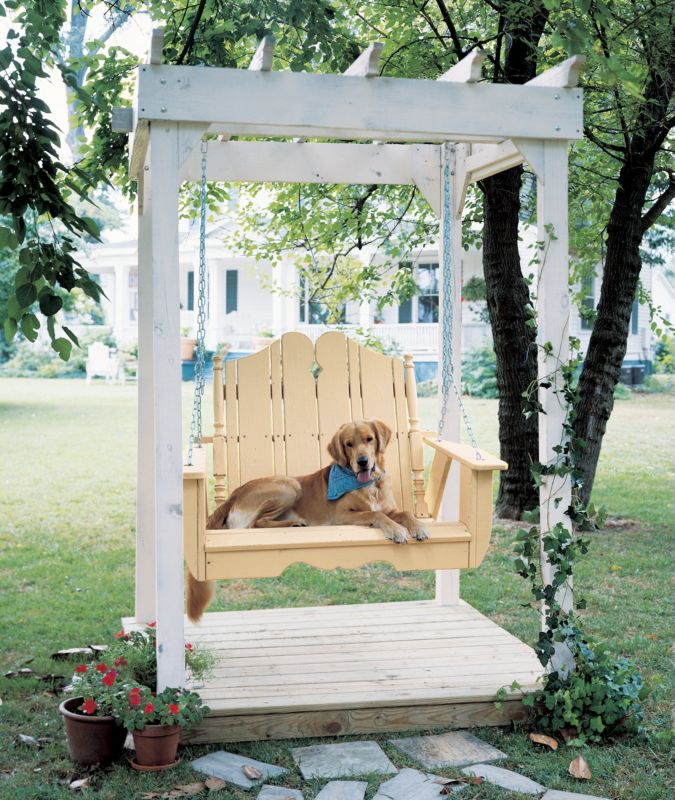 Add a touch of old-fashioned charm to your landscape with a prepainted swing arbor. The wooden garden arbor and swings are constructed from 1 inch thick plantation grown southern pine, cedar, or cypress.
Purchasing a prepainted swing will save you the time and effort of painting it yourself, but consider this:
By ordering an unfinished arbor swing, you can choose a color that matches your home or coordinates with your landscaping.  You can also paint the swing and the arbor in different colors and achieve a unique, custom look.
After painting, you might distress the finish slightly to enhance the rustic garden arbor design. This will also cause your new arbor and swing to blend instantly into an established landscape.
A landscape design element this large that looks brand spanking new can be jarring when placed into the yard of an older home.
Once you group a few potted plants around this garden arbor swing and grow a vine up 1 or 2 of its posts, it will look as if it has always been there.
Choose colors that blend with the style of your home and its garden.
For instance, the whitewashed arbor with the butter chair depicted in the image at the top of this page would look good near a white house or in a garden that is predominately green, white or soft, pastel colors.
If you plan to place your swing in a garden full of brightly colored flowers, flamingo or persimmon might be better color choices.
Don't be afraid to make bold color combos. I can envision a coffee arbor with a canary yellow swing with a Black-eyed Susan vine twining round the posts.
Whatever colors you choose, an arbor and swing set are sure to be a stunning focal point in your landscape design.


The beautiful cypress wood arbor kits can be orderd unfinished. You can paint or stain them, or simply leave them natural. The untreated wood will eventually weather to a soft gray color.
Cypress trees contain a natural oil which preserves the wood and makes it unpalatable to insects and rot resistant. This makes cypress wood perfect for use in outdoor landscape design. For this reason, it is often used to build decks or fences.
Of the 3 woods most commonly used to build arbor swings (cypress, cedar and pine) cypress is the most durable, insect and rot resistant.
One way of adding color to an arbor and swing set would be to place weatherproof accent pillows on the seat and dress the arbor with Clematis vines or climbing roses.
Keep the mature size and weight of the vine in balance with the size and strength of the arbor supporting it.  A wisteria vine or rambling rose would overwhelm most of the arbor swings on this page.
Most climbing roses, on the other hand, only grow to a height of about 10 feet. These are the perfect size for growing on a small arbor. Most of the flowering perennial vines would also work.

Related Pages:

Metal Garden Arbor Kits
All types of metal garden arbors. Metal arbor with gate. Wrought iron garden arbor. Rustic and elegant metal arbors. Arch arbor kit.
Why Buy a Vinyl Arbor?
When is a vinyl arbor superior to a wood or metal garden arbor? PVC arbor with gate. Pergola and arch arbors. Arbor accessories including benches and wings.
Garden Arbor with Bench
Metal garden arbors with benches. Cedar arbor bench. Vinyl garden bench with arbor. Some of these arbor benches need the adornment of a flowering vine. Others are decorative enough to stand alone.
Raised Bed Garden Pictures
Raised bed garden tips for growing plants in raised garden beds. Raised garden bed pictures. The cost of raised bed systems and kits. Cheap raised bed vegetable garden made of cinder blocks.
Above Ground Pool Landscaping Ideas
Above ground pool landscaping photos. Above ground pool landscape pictures. Plants you should not use in above ground swimming pool landscaping. Above ground pool deck landscaping tips.
Go from Arbor Swings to Botanical Journeys Plant Guides Home Page