Flowering Crab Apple Tree

Malus spp

Flowering crab apple tree care. Planting crab apple trees. Bonsai and landscaping with ornamental crab apple. Siberian, Louisa, Adams and weeping types of Malus crab apple.
| | |
| --- | --- |
| Great Price on Double Knock Out® Rose Collection | |
Buy 'Red Splendor' Crabapple Trees Here
There is hardly a better plant for adding drama to the landscape than the ornamental crab apple tree.
It transforms itself from a pink or white cloud of fragrant flowers in the spring into an artist's palette of leaves in the fall.
Then it drops those leaves to reveal a crop of purple, red, orange, or yellow fruit which are the jewels of the landscape.
The time of peak bloom in a flowering crab apple depends on both the cultivar and the weather. It may occur as early as the end of April or as late as the middle of May.
There are cultivars bearing single, double, or semi-double flowers. The double-flowering varieties put on a longer flower show than the others but fall behind them in terms of fruit production. If you want to make jelly with the fruit, plant a single-flowered cultivar with larger fruit.
The only difference between an apple and a crab apple is the size of the fruit.
Crab apple trees are just apple trees that produce fruit measuring 2 inches or smaller in diameter.
The apples are produced summer through fall but can retain their ornamental value well into winter if left on the trees.
Crab apple trees exhibit a diversity of growth habits. Some are romantic weepers. Some cultivars are rounded in shape while others spread along the horizon. Still others shoot straight up toward the sun. Others make themselves into the shape of a vase or a pyramid.
There is an equal diversity of mature sizes with some dwarf cultivars topping out at 8 feet and others growing to 40 foot heights. The majority fall into the 15-25 foot range. With so many shapes and sizes available, there is surely a crab apple for every garden.
Buy Plants at Can't-Be-Beat Prices!

Planting Crab Apple Trees

Plant your flowering crab apple tree in rich, moist, slightly acidic soil in a sunny location. These trees fruit and flower most abundantly with 8-12 hours of sunlight per day.
Good drainage is essential as crab apples do not enjoy having wet feet. If your soil needs beefing up, add organic matter to it before planting the tree.
Most cultivars are hardy in zones 4-8. You cannot grow a flowering crab apple tree in Florida or on the Gulf Coast.
Certain varieties will grow as far north as southern Canada.
Containerized or balled and burlapped trees can be planted throughout the growing season. Dig a hole twice as wide as the root ball and set the tree into it so that the soil, when replaced, will be at the same level as the soil around the roots.
If the roots are compacted, loosen them but don't cause the root ball to fall apart. Remember to remove the ties holding the burlap in place. Push the burlap down into the planting hole instead of trying to pull it out from under the tree.
Bare root trees should be planted in the spring as planting them later in the season can stress them.
Dig a hole deep and wide enough to accommodate the root system without bending any of the roots.
Fill the planting holes, water the trees in well and mulch around them. Water regularly for the first year, after that, only during drought. It isn't necessary to feed a flowering crab apple tree its first year in the ground.
Flowering will usually begin the year after the tree is planted.
Types of Crab Apple Trees


Robinson Crabapple - $88.95
from: Fast Growing Trees Nursery
The Malus Louisa crab apple tree is a weeping form that grows to a height of 15 feet and is hardy into zone 4. Louisa features pink flowers, yellow fruit and yellow-orange fall foliage.
The Siberian crab apple tree is one of the largest varieties maturing to 50 feet. It covers itself in pink flower buds in the spring. These open into fragrant white blossoms.
The Siberian crab's tiny (1/8 inch) fruits appear in multitudes. Their number and shiny red color cause them to stand out in the winter landscape.
This cold hardy crab can be grown from zones 3-7. It is vulnerable to fire blight and scab.
The Adams flowering crab apple tree is a 20 foot standard which bears pink blossoms and red fruit.
The white buds of the Sargent crab apple tree open into fragrant white flowers. Small red fruits follow the blooms and persist into winter.
The compact, multi-trunked Malus Sargentii is often grown as a shrub. With time, its spread will exceed its 10 foot height.
Crabapple Bonsai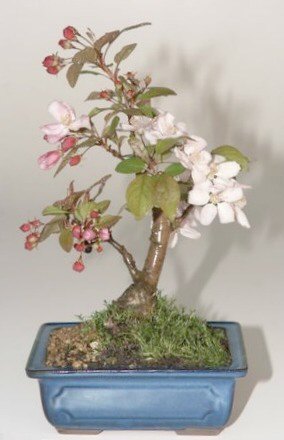 Buy Flowering Crab Apple Bonsai Here
All crab apples need to be exposed to cold weather in order to set flower buds. This tree is no different.
You can bring it in and display it indoors in the spring while it is blooming, but it should "live" outdoors just as its larger counterparts do.
Flowering crab apple trees make tough, trouble-free bonsai subjects.
Buy Discounted Crabapple Trees


Radiant Crabapple




Crabapple - Purple Prince


Crabapple Tree - Dolgo


Prairiefire


Crabapple - Red Barron


Adirondack Crabapple


Crabapple - Red Splendor


Crabapple - Golden Raindrops


Royalty Crabapple


Crabapple - Adams


Crabapple - Indian Magic


Sugar Tyme® Crabapple


Crabapple - Profusion


Crabapple - Red Jewel


Zumi Crabapple




Crabapple - Snowdrift


Crabapple - Spring Snow (fruitless)


Crabapple - Donald Wyman

Earn Yummy Money Making Candy Bouquets!
Related Pages:

Crab Apple Tree Pruning Made Simple

Fertilizing Apple Trees: When and What to Feed Them

Go back to Crab Apple Tree Care: Treating Leaf Spot and Fire Blight

Go from Flowering Crab Apple Tree to Botanical Journeys' Home Page