Unique Garden Arbor with Bench
Metal garden arbor with bench. Cedar arbor bench. Vinyl garden bench with arbor. Some of these arbor benches need the adornment of a flowering vine. Others are decorative enough to stand alone.
Seat Of Authority Arbor
The Seat of Authority will form a striking focal point in any landscape design. It is a mini-gazebo constructed of galvanized steel. The 3" thick square tubing "posts" are not just a nice architectural touch. They give this arbor bench real strength.
The black canvas top and seat cushions shown (these are sold separately) compliment the bronze brown finish on this metal arbor.
The arbor is 68" W x 38" D x 86" H and comes with a 10 year warranty.
Use it to turn any level surface in your yard into a private nook.
Cozy Arbor Bench
This 42" L x 24" W bench mounts to your choice of the Vienna
(shown in the photo) or Monaco arbor
. It is made of weatherproof PVC which will never need painting. Warrantied for 20 years against yellowing, warping and cracking.
Rosedale Seat
If you want a wooden garden arbor with bench to smother in flowering vines, this is the cedar arbor for you. The 42" W seat provides ample room for 2 to sit and chat.
The bench is sold separately from the Rosedale Arch to which it attaches.
Breeze Cedar Pergola 5x11
The 5' x 11' Breeze do it yourself pergola kit makes creating a beautiful outdoor seating pavilion easy. The pergola posts that come with this kit are 6"x6" for added durability.
This garden arbor with bench is sturdy enough to serve as a grape arbor.
Please be aware that the bench shown in the photo is not included in the kit.
Courtyard Arbor with Benches
Total freedom from maintenance is the bonus that comes with this vinyl arbor with 2 benches. The stately garden structure is 90" H x 84" W x 30" D with a 60" inside opening. Each bench is 11" D and attaches to 2 of the 4"x4" posts. There is 38" of space between the benches.
Cover this in evergreen Confederate jasmine and you will have a cozy, private conversation area year round. Fragrant white flowers will add even more appeal to the nook in summer.
Ground anchors are included along with a 20 year warranty.
Camelot Planter Arbor
Arbors: Seat Attachment for Camelot PVC- Arbor Seat
50" W x 84" H x 28" D white PVC garden arbor trellis comes with all the necessary hardware including the ground anchors.
The dimensions given include the planter boxes.
The seat is sold separately. The planters make this a great patio arbor.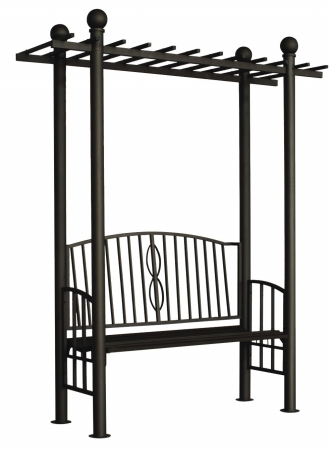 Dc America Bronze Toscana Bench Arbor
This stylish garden bench with arbor is made of bronze steel. It is 87" H x 71.5" W x 26" D.
There is also a DC America Toscana Double Bench Arbor with Pergola Style Top
which is 91" H x 122" W x 69" D. The benches face each other and there is plenty of room to pass between them.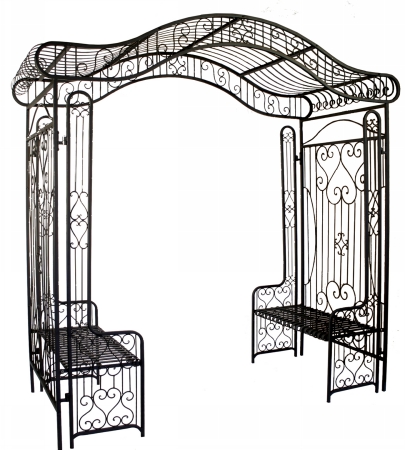 Austram Leather Black Englewood Arbor
This large and very ornate metal garden arbor with benches will make an undeniable statement in your landscape. At 91" H x 92" W x 40" D, there is enough seating to comfortably accommodate 4 persons. The design provides ample space for walking between the benches.
Leather black is the color of the powder-coated finish. The metal is zinc-dipped for maximum rust resistance.
A stand alone piece of garden art.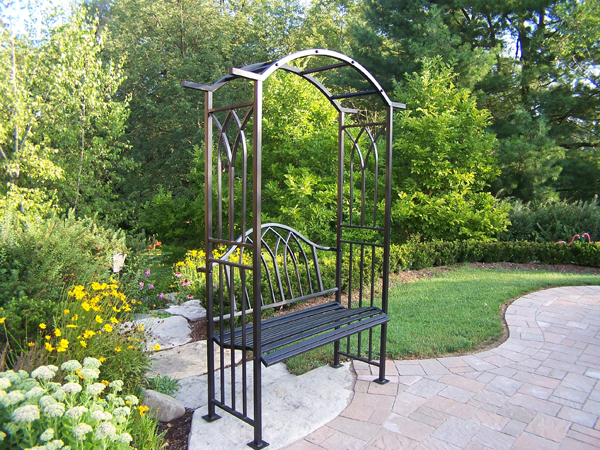 Oakland Living Corporation Royal Arbor with Bench
Turn your back yard into a private park with this elegant black cast iron garden arbor with bench. This design is also available with a gate (click here to see it)
.
IF you have a large property and wish to use 2 arbors, this gives you the option of having a bench arbor and a gate arbor that match.


Wood Arbor Swings
See the best wooden garden arbor swings here. You can purchase a prepainted arbor with swing or without in your choice of 26 colors. Or go the natural route with an unfinished cypress arbor and swing.
Ideas for Landscaping Arbors
Advice for landscaping arbors. Pictures of landscaping ideas for incorporating an arbor into your home landscape design. Landscaping plant guide for arbors and pergolas.
Why Buy a Vinyl Arbor?
When is a vinyl arbor superior to a wood or metal garden arbor? PVC arbor with gate. Pergola and arch arbors. Arbor accessories including benches and wings.
Above Ground Pool Landscaping
Above ground pool landscaping photos. Above ground pool landscape pictures. Plants you should not use in above ground swimming pool landscaping. Above ground pool deck landscaping tips.
Go from Garden Arbor with Bench to Plant Guides Home Page