Flowering Jasmine Bonsai Tree
Wrightia religiosa Bonsai
Buy a flowering jasmine bonsai tree here. Water jasmine Wrightia religiosa bonsai in 2 sizes. Yellow jasmine bonsai. Winter and white jasmine bonsai plants.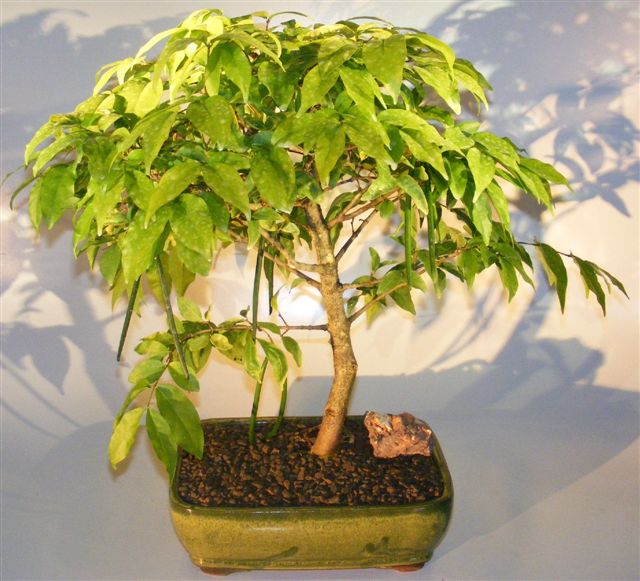 Flowering Water Jasmine Bonsai - Extra Large (Wrightia religiosa)
W. religiosa (syn. Echites religiosa) is a flowering shrub to 10 feet in its native Asia. It is a popular bonsai plant in Malaysia where it is commonly called wild water plum or water jasmine.
Most plants have solid green leaves but there are variegated cultivars as well. The nodding white blooms, which may be single or double, are sweetly fragrant.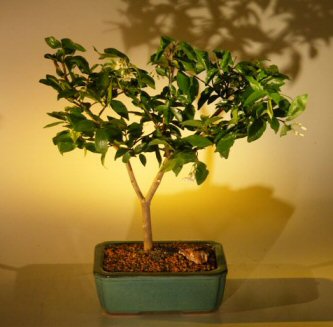 Buy a Flowering Water Jasmine Bonsai - Medium (Wrightia religiosa)
The honey scented blooms are replaced by long, slender seed pods which add a decorative element of their own and extend the season of interest.
White Jasmine Bonsai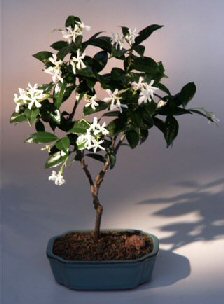 Flowering White Jasmine (Trachelospermum jasminoides)
Unless you live in a warm winter area, this will be an indoor bonsai. White jasmine is the vine beloved by gardeners in the American South as confederate jasmine.
The clusters of star-shaped summer blooms will infuse the room where this bonsai tree is kept with heavenly jasmine perfume. The glossy, evergreen leaves keep the plant handsome all year.


Winter Jasmine Bonsai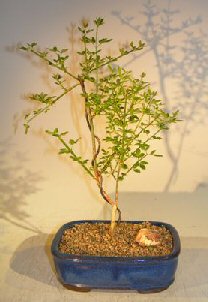 Flowering Winter Jasmine Bonsai Tree (Jasminum nudiflorum)
Winter jasmine is a hardy, deciduous shrub. It will cover itself, from November to February with sweetly fragrant yellow flowers.
Keep this plant outdoors and do any trimming you deem necessary after the flowers fall.
Orange Jasmine Bonsai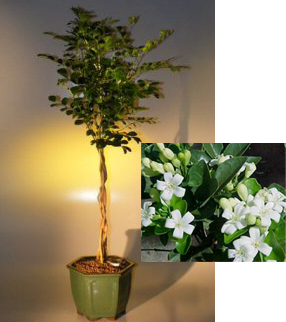 Flowering Orange Jasmine Bonsai - Braided Trunk (Murraya paniculata)
This indoor bonsai features clusters of small white flowers bearing 5 reflexed petals backed by glossy, evergreen foliage. The strongly fragrant flowers are replaced by tiny red berries which may be used to grow new plants.
Place it in a bright east, west or south facing window. Protect it from very hot sun in the summer months and keep it evenly moist year round.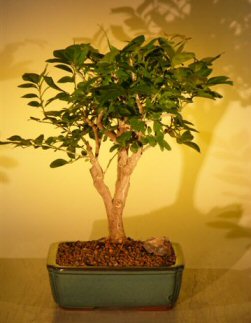 Flowering Orange Jasmine - Large (Murraya paniculata)
Feed your Murraya paniculata bonsai with a liquid houseplant food every 2 weeks from spring to fall and every 6 weeks during the winter.
You may prune this bonsai tree or train/wire it at any time of year.
Repot it every other spring for best growth and bloom.
Yellow Bonsai Flowering Jasmine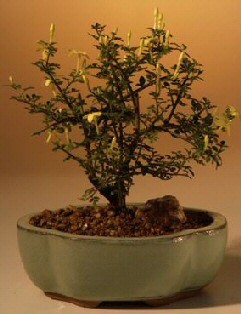 Dwarf Flowering Jasmine - Yellow (Jasminum parkerii)
Growing jasmine bonsai trees has never been easier than with this dwarf Indian jasmine which only grows to a foot in height at maturity.
The half inch yellow flowers face upward on the branches of this diminutive plant which are clothed in delicate deciduous foliage throughout the growing season.
Keep this winter-flowering jasmine bonsai outside.





Bougainvillea Bonsai
Flowering bougainvillea bonsai tree care is all about growing a bougainvillea indoor bonsai tree. Bonsai tree pictures.
Japanese Sago Palm Bonsai
Buy beautiful Sago palm bonsai trees to add to your indoor bonsai collection. Bonsai Cycas revoluta care is simple. Just treat these indoor outdoor bonsai plants like cacti and they will thrive.
Buy Bonsai Trees and Supplies
Buy bonsai tree plants, seeds, pots, tools and supplies here. Buy a bonsai tree or a new bonsai tree pot. Buy mini bonsai trees of all types, real or artificial, online. Best prices anywhere!
Go from Jasmine Bonsai Tree to Botanical Journeys Plant Guides Home Page