The Jasmine Plant
Jasmine Flowers
Jasmine plant and flower info. Jasminum and other species commonly called jasmine because of their fragrant flowers. Buy Angel Wing, Star jasmine, Arabian and Yellow Winter jasmine vines here.
Winter Jasmine Flower Picture (Jasminum Polyanthum)
S. Montanari
Buy This At Allposters.com

True jasmines are a family of shrubs and vines beloved for the intoxicating scent of their flowers. Plants belonging to the genus Jasminum clothe their stems with small, deep green, glossy leaves.
Jasmine plants do not all bloom at the same time of year. Some varieties flower in the spring, while others bloom in the dead of winter. Still other types bloom, repeatedly, throughout the growing season.
Jasmine Flowers
Close-Up of Poet's Jasmine Flowers (Jasminum Officinale)
C. Dani
Buy This At Allposters.com

The tubular white or yellow flowers always appear in clusters. The clusters may form in the leaf axils or at the shoot tips.
Most types carry the jasmine plant's signature fragrance.
The history of the jasmine flower is replete with stories of its use as an aphrodisiac (you can learn more about this on the Jasmine Oil page) and as a key ingredient in perfumery. You'll find jasmine based perfumes here.
The flower petals also have a long history of medicinal use in jasmine flower tea.
Other Plants Called Jasmine
There are a vast number of these smell-alikes. Some are also Jasminum look-alikes.
Aside from the botanical confusion this causes, it is a good thing.
These common names make it easy for any gardener who adores the scent of jasmine to enjoy it year round. The hardy plants can be grown outdoors in a variety of situations.
Some as shrubs. Some as vines. Some in sun. Others will thrive in shade.
The tender varieties can be grown as house plants.


Arabian Jasmine Photo
Arabian jasmine or jasmine sambac is my favorite of all the various jasmine flowers. The plant in the picture is growing on the shady side of my back yard.
I love it so much that I've planted another beside my front door and a 3rd in a pot.


Jasminum nitidum
Buy Angelwing Jasmine Here
The fragrant white blooms of Angelwing jasmine first appear in midwinter to spring and continue throughout the growing season. Angelwing jasmine can be planted outdoors in zones 9-11. In zone 8b it will freeze to the ground but may return the following spring if the root zone is mulched.
The 2inch wide pinwheel flowers open at night. This is a fast-growing, twining vine to 20 feet but it can also be grown as a small shrub.
In cold zones, keep it in a pot where its quick growth and free flowering ways will astound you.


Buy a Yellow Winter Jasmine Vine Here
Here in the South, yellow winter jasmine is often confused with another sweet smelling vine: Carolina yellow jessamine but they are members of different plant clans.
This is 1 of the few cold hardy jasmine varieties. It is hardy outdoors in zones 6-10.


Confederate Jasmine Picture
Trachelospermum jasminoides is completely unrelated to true jasmine plants but it bears star-shaped white flowers which both look and smell just like jasmine flowers.
If you enjoy the sweet, heady fragrance of flowering jasmine, star jasmine can be a useful addition to your fragrant plant collection. It starts to bloom in late spring, just as the flowers of Jasminum polyanthum begin to fade.
This is probably the plant most Southerners think of when jasmine is spoken of.
I've got a Confederate jasmine (or star jasmine) vine growing into the oak trees in my back yard. The jasmine sambac in the picture above its planted beneath these trees.
The star jasmine blooms first. Then, in midsummer, the Jasminum sambac takes over. By late summer, my night blooming jasmine plant has begun to flush.
My back porch is an enjoyable place to sit whenever any of these jasmines are in bloom.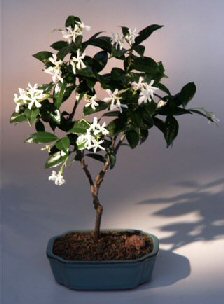 Buy a Flowering White Jasmine (Trachelospermum jasminoides) Bonsai Here
If you want to grow a jasmine bonsai tree, this is a good variety to use.


The tubular, white blooms on a well-grown
Cestrum nocturnum
plant will be so numerous as to bow the branches. Each bloom is too small to be showy on its own but en masse, they are striking. They are long and nodding like
Nicotiana
flowers. Click on the link above to see pictures.
The flowers of this plant only emit their lovely perfume at night.
Unusual white berries form on the tall, upright shrubs after the blossoms fall.


Carolina yellow jessamine is a flamboyant twining vine native to the Southeastern United States. Carolina jasmine features evergreen foliage and bears clusters of inch deep, fragrant, golden trumpet-shaped blooms. One of its common names is Evening Trumpet Flower.
Gelsemium sempervirens is poisonous and not safe to ingest.


Crape Jasmine Flower Picture
Tabernaemontana divaricata is called crape jasmine because it looks similar to a cape jasmine or gardenia plant. There is also a single-flowered variety which looks like a jasmine flower.
The plant in the photo is in my side yard, right outside my office window. I put it there for its good looks as it has no scent.
This is a large shrub which can grow to 15 feet. Mine grows to about 6 feet each summer. It dies to the ground in cold winters here in zone 9a but returns each spring.


"Nicotiana, Heaven Scent 1 Pkt. (50 seeds)"
The jasmine scented flowering tobacco plant is an annual plant native to South America which is related to smoking tobacco. There are several varieties of Nicotiana you can grow.
Ornamental tobacco is the most elegant of summer flowers. There are day and night flowering types. The day blooming Nicotianas are fragrant day and night. The night bloomers are only scented in the evening.
There are a wide range of heights to choose from. Plant the taller varieties at the back of a border or in the center of a bed where they will tower above the other plants. Use the dwarf types in patio pots or to edge walkways.
Buy Jasmine Plants Below:



Growing Dwarf Lemon Trees as House Plants
Dwarf lemon trees make delightful patio or house plants. A well cared for lemon will bloom repeatedly throughout the warm months.
The white blooms will appear on the tree alongside the yellow fruit to great ornamental effect.
The blossoms are fragrant and smell quite similar to jasmine flowers. If you like growing jasmine plants, you will also enjoy raising dwarf lemon trees.
Go from Jasmine Plant to Botanical Journeys Plant Guides Home Page