Mix together a cup of each, sprinkle in a teaspoon of Epsom Salts for magnesium and sulfur and a tablespoon of horticultural lime for calcium. Calcium prevents the tomato disease blossom end rot. The Epsom Salts promote stem strength and fruit set.
If you want to add more potassium to the mix, dry a few banana skins on a cookie sheet in a slow oven until they are crisp and brown. Crunch them up after they cool and add them to your homemade tomato fertilizer.
Liquid Fertilizer for Tomatoes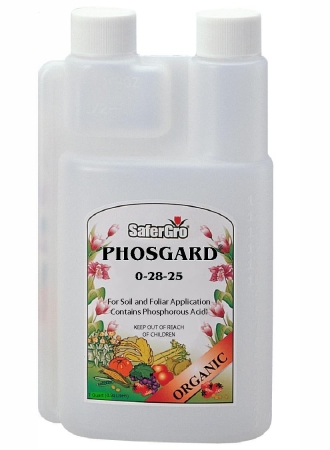 JH Biotech Phosgard Phosphorus and Potassium Fertilizer
You can tea feed tomato plants with compost tea. Place a bucket of water outside in the sun. Drop a fistful of organic compost or composted manure into it. Stir it with a stick and then let it brew for a few days. Pour it around the tomato vines.
If you have a fish tank, save the dirty water when you clean it. It makes a potent liquid tomato fertilizer.
When you have leftover coffee (black--it can have sugar but no cream) dilute it in a pail of water and use it to water tomatoes growing in pots or in the ground. It will give them a nitrogen boost.
That last little bit of molasses that you can't pour out of the jar makes a fine fertilizer for tomatoes. Pour hot water into the jar, shake it, and you have a sweet liquid tomato feed. All different types of tomatoes love the sugar and minerals in molasses.
Tomato Growing Guides:

Is Coffee a Good Organic Tomato Fertilizer?

What is Tomato Blight and How Do You Control It?

Go from Organic Tomato Fertilizer back to the Best Tomato Fertilizer

Go Back to Botanical Journeys Plant Guides' Home Page