Raised Bed Garden Kits
You'll be amazed at the variety of raised bed garden kits available. There are raised garden bed kits for every conceivable space. Curved garden bed kits can draw attention to special plantings and act as a focal point in the landscape.
Elevated planters can put the pleasure back in gardening for people with back or knee problems. They are also the perfect raised bed garden kits to use on a wooden deck.
Elevated Cedar Raised Bed Kit
This very deep elevated garden bed kit will add privacy and productivity to your patio! Aluminum corners hold the 2x8 foot bed together.
These planters house a secret.
They are not as deep as they seem. Each bed hides a false floor 10 inches below the top, so you only need to fill the top with soil. This makes the units lighter and less expensive to plant while still providing plenty of root space for most crops.
The extra height makes these beds more like outdoor furniture than raised gardens. You can arrange the kits so that they enclose your outdoor living space or use them as dividing walls between spaces.
"Two Stepper Complete Cedar Raised Bed Garden"
This is another Burpee garden bed kit. It measures 4x8 feet and you can order just the metal components or the complete bed which includes the cedar boards.
"Pro Series Aluminum Corners"
The pivoting aluminum corners can be ordered separately and provide great flexibility in raised bed garden designs. Use these to plan garden beds of any size or shape you desire.
Pro Series Cedar Lumber is also available a la cart.
Periwinkle Grow Bed, 3' x 6'
An attention-getting bed in an electrifying color! If blue fits with your color scheme, you will love growing herbs, produce and posies in these UV-stable polypropylene raised bed garden kits.
This bed is 10 inches deep with snap-together corners for easy construction. Two sizes are available: 3'x3' and 3'x6'.
Frost Covers are available in the same sizes so you can protect your tenders crops from early frosts and extend your growing season for a few weeks.
For organic gardeners, Pop-up Insect Covers are a God send. Use them to keep the squash bugs and cucumber beetles away without harmful chemicals.
These covers will also keep cats and squirrels from digging your seedlings up and protect tender, young leaves from rabbits.
You can also buy Grow Bed Liners to keep the soil from washing out of your raised beds.
Garden Bed Kit with a Trellis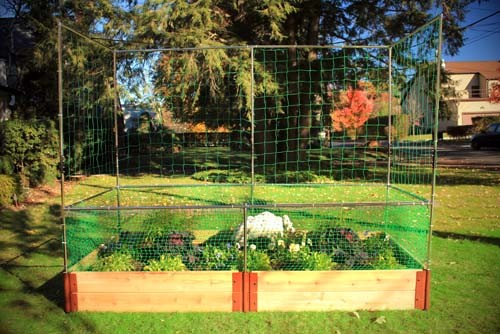 Western Red Cedar Raised Garden Bed with Veggie Wall Trellis
This cedar garden bed kit includes an attached trellis making it perfect for growing a raised bed vegetable garden. It even has an animal barrier to deter the local wildlife from sampling your produce.


Elevated Garden Bed Kit
Order a Standing Garden Here
These elevated raised bed garden kits are the solution of choice for gardening on a wooden deck. Air can circulate underneath them so there is no worry of excess moisture damaging the structure.
Just be aware of the weight of the filled planters.
I would avoid lining them up, end-to-end, across 1 side of the deck. Space the beds so that the weight is evenly distributed.
Cedar Planter Bench 24 in W x 82 in L x 36 in H
This bench planter will look gorgeous on your back deck or patio. It's the perfect solution for gardeners with mobility problems. No stooping or bending. You can tend to your plants in comfort.
Cedar Pergola Planter 3 ft W x 10ft L x 8 ft H
I want to point out to you that although the pergola planter in the picture is stained, this kit will arrive at your door either unfinished or with a tung oil finish (make your choice on the sales page).
This gives you the option of leaving it natural and letting the Western Red Cedar weather as it will or you can apply whatever paint or stain that complements your landscape design.
This is another great raised bed garden kit for gardeners who do not like to stoop. There is enough space between the planters for a couple to walk side-by-side or to accommodate a wheelchair.
The cedar pergola planter also makes a fantastic garden room divider.
Self-watering Raised Bed
Finally, a raised bed for the busy gardener. You won't have to worry about forgetting to water your garden if you plant it in this self-watering planter.
It holds 8 gallons of water and features a gauge that will tell you when it's time for a refill.
Wicking fabric lines the bottom of the planter and keeps the soil evenly moist. Available in your choice of bronze, white or loden green.


Round Raised Bed Garden Kits
High CurveRock Raised Bed 10in
This raised bed garden system consists of 4 "rocks" like the 1 in the image. These "stones" are formed of high-density, UV-protected polyethylene which gives you the look of stone without the weight.
When the kit arrives at your home, you just place the 4 interlocking units together and voila`, you are the proud new owner of a 48 inch round, 10 inch deep raised bed garden.
Steel spikes hold the whole kit and caboodle together. The hand painted stones will not chip, peel or crack and are designed to withstand all weather conditions.
The hollow sections provide insulation to the plant roots and allow for a longer growing season.
Herbs would look especially fetching in this bed.
Round "Fieldstone" Kit, 4-Foot
This 4 foot circle garden bed will be an eye-catching focal point in any planting scheme. It can also be assembled around a tree you wish to protect from the weed whacker or underplant with flowers.
This bed is made of hard-wearing polyethylene painted with a two-toned technique to mimic natural stone. The advantage of using polyethylene over real stone is that there are no spaces between the "rocks" where soil can run out or weeds can take root.
Also, each of the 4 sections of this kit weight just 11 lbs. Stone would be many times heavier.
A mallet is the only tool you will need to assemble this beautiful raised bed garden kit.




More Raised Bed Gardening Info:
Raised Bed Garden Pictures

Raised Garden Bed Design Ideas

Tips for Building a Raised Bed Garden

Subscribe to Our Gardening Newsletter

Subscribing to our free gardening newsletter is the best way to keep up with new developments on botanical-journeys-plant-guides.com. You'll get gardening tips, secrets of container and organic gardening and botanical travel info that is not on the site.