Wooden Garden Arbor
How a wooden garden arbor can enhance your garden and landscape design. Wood arbors add height and drama to the garden more subtly than metal or vinyl arbors as they blend more naturally into the landscape.
If left natural, these wood arbors will fade to a soft gray with age. If you want to keep them looking just the way they do in these pictures, paint them with a sealant before or after assembly.
Of course, you also have the option of painting or staining them any color you like.
Casablanca Arch
Add a touch of Moorish magic to your yard with this cedar arch. Its open lattice sides will support any type of vine you wish to adorn it with.
The green painted steel finials atop this wooden garden arbor complete the Moroccan theme.
Heritage Arbor
This unique wooden garden arbor design features a pergola top and "windows" on each side which are here used to accommodate hanging flower baskets.
Heritage Grand Entry
Here it is again, this time decked out with matching wings and copper-capped side posts. It is best used, just as its name suggests, to mark a grand entrance in the landscape.
The components are held together with stainless steel screws. All you need to assemble it is a screwdriver.
Outside dimensions are: 131" W x 32" D x 87" H
The 4x4s which support the side posts are not included. You would purchase these at your local lumber yard. The post sleeves and copper caps are included.
Longevity Arch
The Asian styling of the Longevity Arch will bring a Japanese garden to life. The peak of the cedar gable is appropriately accented with a medallion featuring the Chinese symbol for longevity.
Outside arch dimensions are: 52-3/4" W x 23-1/2" D x 89-1/2" H
LWO Astoria Arbor
This handsome pergola-topped arbor, with its bow-shaped header and lattice side panels converts easily into a charming garden arbor with bench when you add the separate 42.5" seat.
Outside dimensions are: 86.25" H x 64" W x 29" D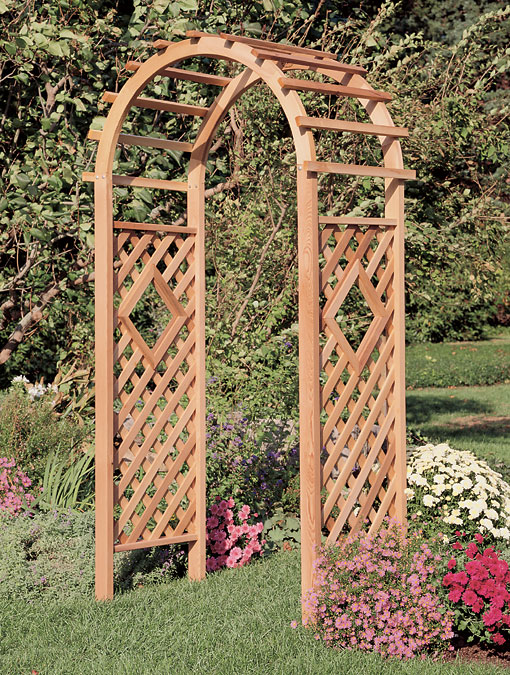 Rustic Natural Cedar WINDOW ARBOR
You will want to leave the diamond-shaped windows built into the lattice sides of this white cedar arch arbor exposed to show them off.
Dimensions: 88" H x 24" D with a 36" W opening.
If you like this arbor but would prefer it without the windows because you wish to use it to support a vine, you can find a windowless version of it Here
.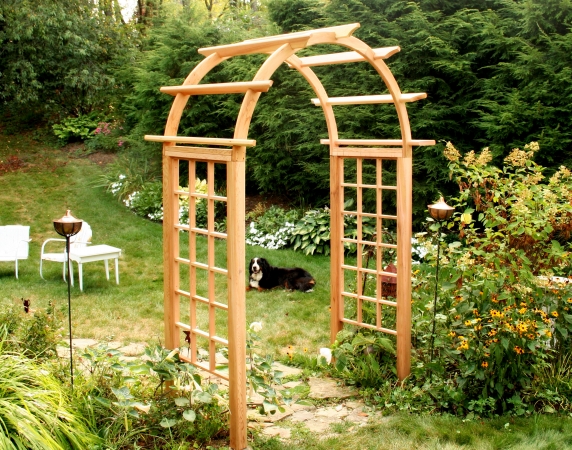 Creek Vine Designs EY72ARCVD Cedar Arched Arbor 72 in. Opening
Creek Vine Designs EY66ARCVD Cedar Arched Arbor 66 in. Opening
Creek Vine Designs EY60ARCVD Cedar Arched Arbor 60 in. Opening
Creek Vine Designs EY54ARCVD Cedar Arched Arbor 54 in. Opening
Creek Vine Designs EY48ARCVD Cedar Arched Arbor 48 in. Opening
Creek Vine Designs EY42ARCVD Cedar Arched Arbor 42 in. Opening
The open design of this arch arbor makes training vines up and over it a breeze. Its Asian influenced styling will lend an air of casual elegance to any garden room.
Here, it is being used as an entryway into an outdoor room.
The most unique thing about this garden arbor design is the range of sizes in which it is available.
You can purchase pole torches like the ones in the photo here
.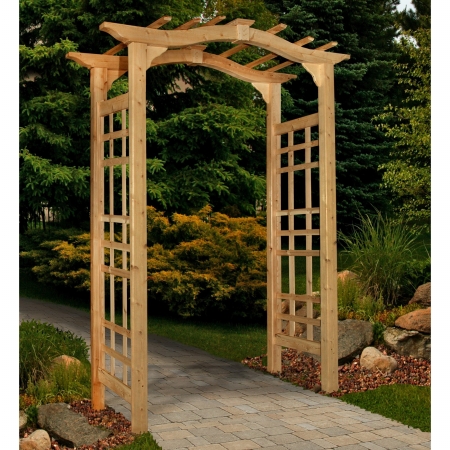 New England Arbors VA68890 Westwood Arbor
This, to me, is the most gorgeous arbor on this page. Made of prestained cedar, the Westwood by New England Arbors will add a note of graciousness to any outdoor setting.
It is so beautifully designed that you would almost hate to cover it with plants. Use it, just as it is shown here, to add height and style to a garden path.
Small rock gardens on either side of the arbor are a nice touch. These, along with the evergreens give the setting an Asian feeling.
This wooden garden arbor comes with a 1 year warranty.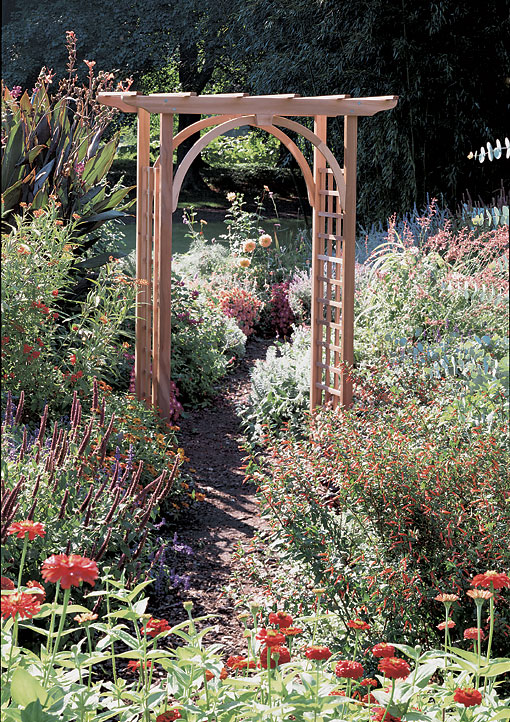 Rustic Natural Cedar WESTPORT ARBOR 620
This white cedar pergola arbor looks right at home spanning the earthen path between these packed-to-the-gills herbaceous borders.
In a garden like this, the arbor is not just decorative but serves as a beacon to visitors telling them where they may pass through.
The garden depicted is an ebullient mixture of annuals and tall perennials but this lattice arbor would shine just as brightly in an overstuffed potager.
The kitchen garden could be designed along these same lines with herbs lining and spilling onto the path and large vegetables like artichokes planted toward the back. The trellis sides would be useful for training pea or bean vines.
Dimensions: 42" W opening x 85" H x 17.5" D.



Choosing an Arbor Gate
Finding just the right arbor gate to use in your front or backyard landscape design. How to decide if a vinyl, metal or wooden arbor with gate will work best for you. Pictures and home landscaping ideas.
Landscaping Arbors
Advice for landscaping arbors. Pictures of landscaping ideas for incorporating an arbor into your home landscape design. Landscaping plant guide for arbors and pergolas.
Go from Wooden Garden Arbor to Metal Garden Arbor Kits
All types of metal garden arbors. Metal arbor with gate. Wrought iron garden arbor. Rustic and elegant metal arbors. Arch arbor kit.
Go from Wooden Garden Arbor to Plant Guides Home Page